CitizenCard - established 1999
We are the largest photo ID card provider in the UK with over 2 million cards issued. All CitizenCards display the PASS hologram endorsed by the Home Office and the Chartered Trading Standards Institute. In addition, our 18+ photo ID card also displays the logos of the police and Security Industry Authority. Retailers, pubs, bars and nightclubs are advised by these organisations to accept all identity cards with the official PASS logo and hologram. You can also travel throughout the UK on a CitizenCard and keep an eye out for our collaborations with supermarkets and discounts for music festivals. Our partners include Waitrose, Sainsbury's, Betfred, Camelot, Co-Operative, East Sussex Council, Shelter, Ladbrokes, Her Majesty's Prison Service, Coral, ASDA, William Hill and Boomtown festival. Our partnership with Yoti means we offer the UK's first digital ID solution: Home Office and police-backed CitizenCard plus Yoti's digital ID mobile app. A Yoti CitizenCard is the perfect ID solution making it safer for young people to prove their identity online and in person.
recognised by police
recognised by retailers
anyone can apply
affordable and practical
Retailers and other organisations can confirm you are a legitimate cardholder at verify.citizencard.com or using the free CitizenCard Verify app provided you present the card to be checked.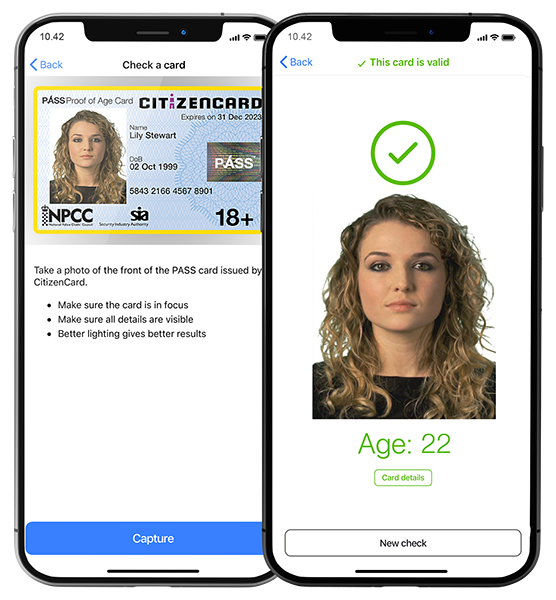 CitizenCard is a not-for-profit organisation - we work closely with charities and schools across the country to provide reduced cost or free ID cards to the most vulnerable in society. Children of all ages in the UK can get a CitizenCard, which they can use as a photographic proof of ID and age when buying age restricted goods in shops or taking domestic flights. CitizenCard also coordinates the No ID, No Sale! Campaign, which provides materials and guidance to retailers to help stamp out underage sales. Through charities we provide homeless and vulnerable people with a valuable document that proves their identity.
CitizenCard is proud to have signed the TransFriendly pledge. In short, we are committed to treating transgender and non-binary customers with dignity and respect.
Your ID card
To apply for your ID card, use our paperless, online application process which doesn't require you to complete any paper forms or provide printed photos - no need to pay to print forms, take photos at a photo booth or post anything to us. A standard application costs £15 and takes up to 21 days. If you need your card urgently, we have a fast track application process which costs £30 and takes 1-2 working days.
CitizenCards are available for any UK resident and are issued in 3 age categories: '18+' for adults, '16-17' for young people over 16 and 'Under 16' for children. The age categories make it easy for retailers and door staff to immediately know if a person is of age to buy age-restricted items or enter the premises. All CitizenCards printed from 7th January 2021 onwards expire 3 years after issuing (rounded up to the end of the month card was printed on). Thanks to our work with Yoti, CitizenCard is now able to offer a physical ID card plus free digital ID to anyone in the UK.
CitizenCard is well-established as the UK's most widely-recognised photo identification card. Whether you are visiting premises, doing shopping or accessing services like transport, CitizenCard is there to help you prove your age and identity.
play lottery
go to cinema
take domestic flights
buy age-restricted items
enter casinos
attend festivals
gain employment
enter pubs, bars and clubs