CitizenCard is the only non-profit UK-wide PASS card issuer, with a managing Board chaired by Baroness Llin Golding and comprising representatives from ACS, Camelot, Co-operative, Experian, Ladbrokes, NFRN and the TMA.
"Lost passports cause a major problem not only for the owner but for the police should they fall into the hands of criminals. It makes no sense for young people to take these valuable documents into town for a night out."
Chief Constable Adrian Lee, Association of Chief Police Officers (now known as National Police Chiefs' Council)
The solution to Adrian Lee's concern is the 18+ CitizenCard, which displays the ACPO (now known as NPCC) logo as well as the SIA (Security Industry Authority) logo. That means police and doorstaff recognise CitizenCard as a valid identification card so it should be accepted by every bar and club across the UK.


CitizenCard:
is the longest-established issuer of Home Office-endorsed PASS-hologrammed ID cards
is the only UK-wide non-profit card issuer
is supported by a network of respected manufacturers and retailers
offers cards free of charge to schools, colleges and universities
offers discounted cards to our charity, government and retail partners
For Media/PR queries email:
Andrew Chevis This email address is being protected from spambots. You need JavaScript enabled to view it.


Discount Programme
Offer discounted CitizenCards to your customers and clients. If you are a business or government department or agency we can arrange for cards to be issued for as little as £5. The co-branded forms can be seen in Co-operative, Sainsbury's, Waitrose, Ladbrokes, Coral, Game, Gamestation, ASDA, William Hill, SPAR, Costcutter, Welcome Break, My Local, Walkabout, Mace, Thwaites, Roadchef, iNTERTAIN, Betfred, Wadworth, Simply Fresh, The Range, Admiral 777 and at many more outlets.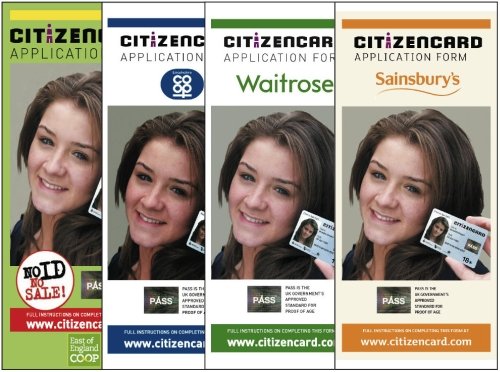 We also work with charities across the UK providing them with discounted Proof of Age / ID cards for their clients who have difficulties obtaining a form of ID.
For more info email:
Andrew Chevis This email address is being protected from spambots. You need JavaScript enabled to view it.


Free Cards Programme
We work with schools across the UK to provide FREE Proof of Age / ID cards to young students in schools and colleges. The cards are in some areas used to provide free transport, and all students can use the cards to prove their age when trying to access age-restricted venues or buying age-restricted goods.
For more info email:
Ali Jarvis This email address is being protected from spambots. You need JavaScript enabled to view it.
Please note our free cards programme is operated in partnership with schools and colleges only and is not available to individual applicants.
For more details about this work please visit the Not For Profit page.
CitizenCard Limited is a non-profit company limited by Guarantee in England & Wales No. 3669949. VAT number 754069518. Data registration no. Z7733342. Registered office: 36 Bromells Road, London SW4 0BG.
If you would like to contact us, please email This email address is being protected from spambots. You need JavaScript enabled to view it. or use our Contact and Support Centre to submit a query.
Watch how CitizenCard transformed the life of Neville, the Poker Champ...