CitizenCard is the only non-profit UK-wide issuer of police-approved proof of age & ID cards. The company comprises representatives from Camelot, Co-operative, Experian, Entain, NFRN and the TMA.
CitizenCard:
is the longest-established issuer of Home Office-endorsed PASS-hologram ID cards
is supported by a network of respected manufacturers and retailers
is the only UK-wide non-profit issuer of police-approved photo ID
offers cards free of charge to schools, colleges and universities in England & Wales
offers discounted cards to charity, government and retail partners across the UK
With more than 2.4 million CitizenCards issued we have always strived to help the public by offering a cheap, safe for every day use UK ID card which is not costly to replace and cannot be used for illegal activities such as ID theft. We also endeavour to educate and offer guidance to retailers with regards to the sale of age-restricted items.
For Media/PR queries email:
Andrew Chevis This email address is being protected from spambots. You need JavaScript enabled to view it.

Yoti CitizenCards
Our new partnership with Yoti means we offer the UK's first digital ID solution: all the benefits of a Home Office SIA and police-endorsed PASS CitizenCard, which allows cardholder to create their digital identity on the free Yoti mobile app.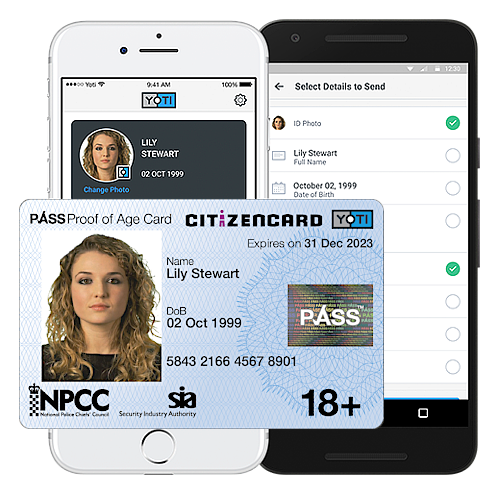 Police on the Cards
The National Police Chiefs' Council (NPCC) logo is displayed on the front of all 18+ cards, alongside the UK Home Office's SIA (Security Industry Authority) logo.

Suffolk's Assistant Chief Constable Rachel Kearton, the National Police Chiefs' Council (NPCC) lead for alcohol harm and vulnerability, is urging customers to use the new cards as photo ID instead of passports:
"Lost Passports cause a major problem not only for the owner but for the police should they fall into the hands of criminals. It makes no sense for young people to take these valuable documents into town for a night out. I would like to see PASS used more frequently in the night time economy."
Home Office Minister Victoria Atkins MP has also welcomed the new 18+ card design:
"Sellers of age restricted products, such as alcohol, can be confident in accepting all cards with PASS holograms. The National Police Chiefs' Council has also allowed its logo to be reproduced on these cards as a way of demonstrating its full support. I look forward to working to improve both the take-up and acceptance of cards across the UK."
We have worked with the UK Home Office since 2001 and in December 2016 the "Leave your passport at home" campaign was launched. 350,000 passports are lost each year, of which 175,000 are lost on nights out in pubs, bars and nightclubs. The UK passport is a valuable document, and if a lost passport ends up in the hands of a criminal, they may attempt to use it in a number of illegal activities, including money laundering and identity theft. Passports are also expensive documents to replace. The campaign encourages people to leave their passport at home and use a PASS photo ID card such as CitizenCard instead.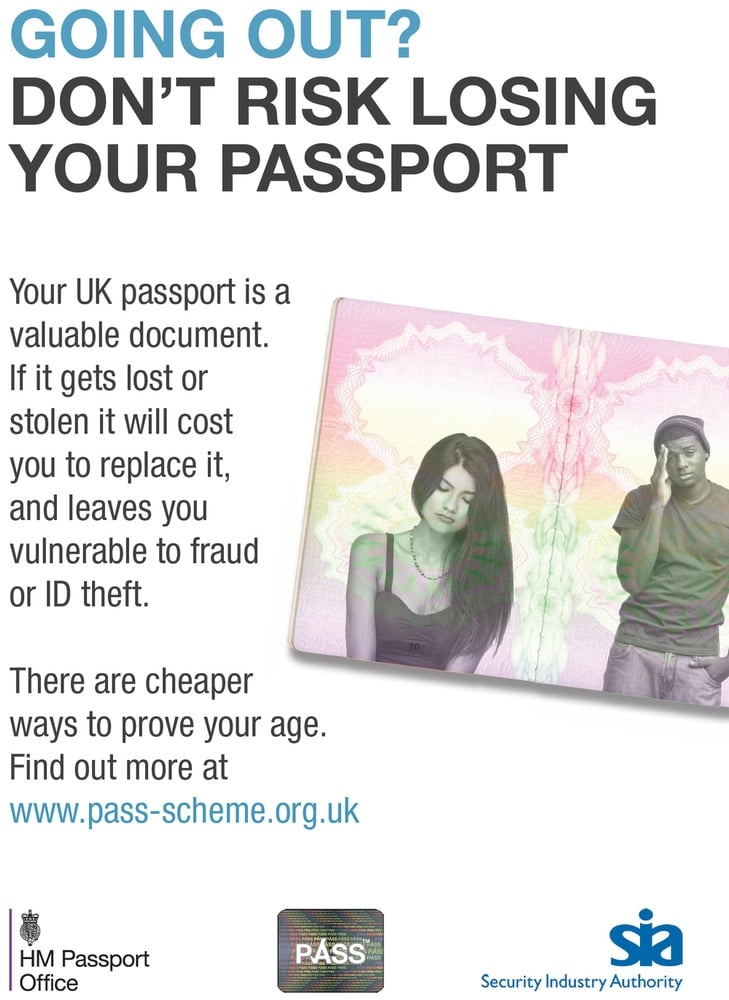 "Young people face a higher risk of losing their passport as they often use it as a form of age verification.

A passport is a highly valuable document. If it gets lost or stolen, not only does it cost the holder money to replace it, but it can fall into the hands of criminals unless it is handed in and cancelled. We are working with a number of stakeholders including retailers, licensed premises, police, local authorities and students, to communicate that there are better ways to prove your age, such as the PASS card."
Immigration Minister Robert Goodwill


Discount Programme - offer discounted CitizenCards to your customers
We can issue Yoti CitizenCards for as little as £3 via our business and public partnerships. The Yoti CitizenCard is an innovative ID solution combining the physical benefit of the UK's most widely accepted PASS card plus Yoti's digital identity app that you can create an account with using a CitizenCard.
We also work with charities across the UK providing them with discounted proof of age & ID cards for their clients who have difficulties obtaining a valid form of photo ID.
For more info email:
Ali Jarvis This email address is being protected from spambots. You need JavaScript enabled to view it.

Free Yoti CitizenCards Programme - offer free ID cards to your students
We work with schools, colleges and universities across the UK to provide free proof of age & ID cards to young students. The cards are used in some areas to provide free public transport. All students can use the cards to prove their age when trying to access age-restricted venues or buying age-restricted goods.
For more info email:
Ali Jarvis This email address is being protected from spambots. You need JavaScript enabled to view it.
Please note our free cards programme is operated in partnership with schools and colleges only and is not available to individual applicants.
For more details about the Free Cards Programme and for information about the 'No ID No Sale!' campaign that aims to prevent under-age sales of age-restricted goods please visit the Not For Profit page.
CitizenCard Limited is a non-profit company limited by Guarantee in England & Wales No. 3669949. VAT number 754069518. Data registration no. Z7733342. Registered office: 7 Prescott Place, London SW4 6BS.
If you would like to contact us, please email This email address is being protected from spambots. You need JavaScript enabled to view it. or use our Contact and Support Centre to submit a query.
Watch how CitizenCard helped Andy take domestic flights...