Yoti CitizenCard - the UK's new ID solution
A Yoti CitizenCard is the perfect ID solution making it safer for young people to prove their identity online and in person. The Yoti CitizenCard contains a smart chip and bears a PASS (Proof of Age Standards Scheme) hologram endorsed by the Home Office. In addition, the 18+ photo ID card displays National Police Chiefs' Council (NPCC) and Home Office Security Industry Authority (SIA) logos.
Yoti is a free app that lets people prove their age and identity to businesses, verify the details of people online, and log in to websites without having to remember passwords. The Yoti CitizenCard can be used to create a Yoti account (see below).
Deltic, the UK's largest nightclub chain is now to accepting the Yoti app as proof of age in some of their venues and all of them will accept the Yoti CitizenCard. We're giving people a safer way to show their ID on nights out - police want passports left at home!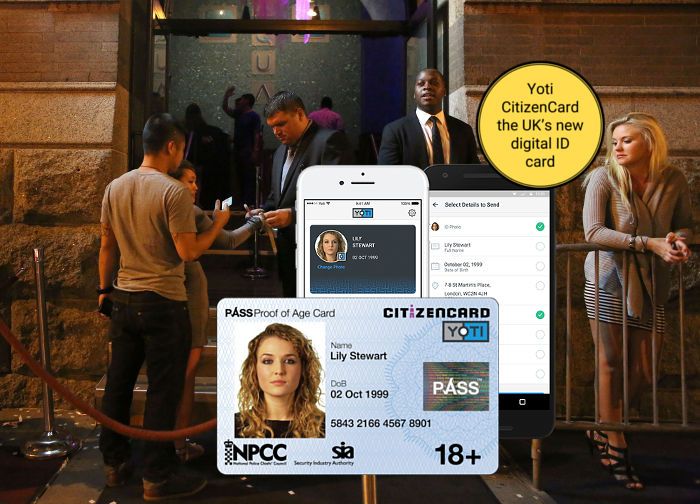 The new Yoti CitizenCard brings you all the benefits of a physical CitizenCard but it also contains the Yoti Key smart chip which will soon enable you to swipe your ID card to prove who you are. Andrew Chevis, CitizenCard's CEO, explains:
"The combination of a CitizenCard in the wallet or purse and Yoti's digital identity app puts young people firmly in control. I'm excited by the potential of this and we look forward to unlocking additional benefits for cardholders via the Yoti Key smart chip on the card in the coming months."
Keep an eye on this page as we'll be unveiling the news on what the smart chip can do here first!
So why get a Yoti CitizenCard ?
it offers all the benefits of a CitizenCard plus it contains the Yoti Key smart chip
it lets you create an account on the Yoti App
Your Yoti ID then lets you:
confirm the people you meet online are who they say they are
prove your age online and on nights out at Deltic nightclubs
log in to websites without passwords
The Yoti Key smart chip will soon let you:
swipe the card to prove your age or identity
future payment and travel access capabilities to be unveiled on this page
Creating your Yoti is easy with Yoti CitizenCard
Once you have your Yoti CitizenCard and Yoti phone app creating your Yoti secure digital ID is simple.